Meet Our Teams
We believe great companies treat their employees like family - and we're building platforms that empower organizations to do just that... through food.
San Francisco, HQ
San Francisco, HQ

New York City

Chicago

Austin

Washington D.C. Metro Area

Los Angeles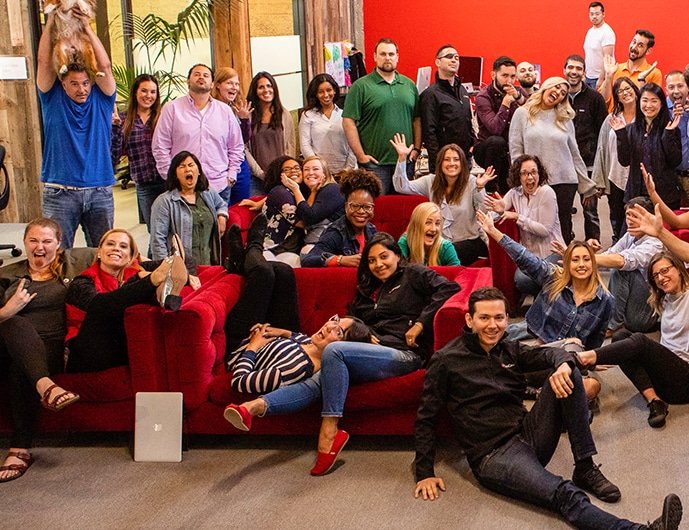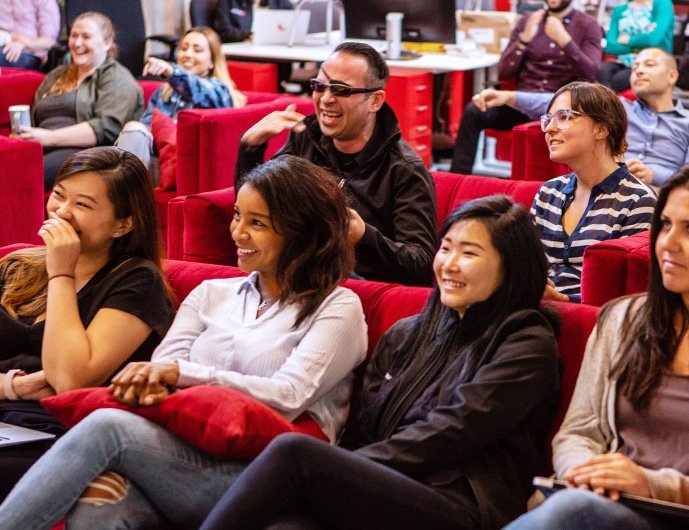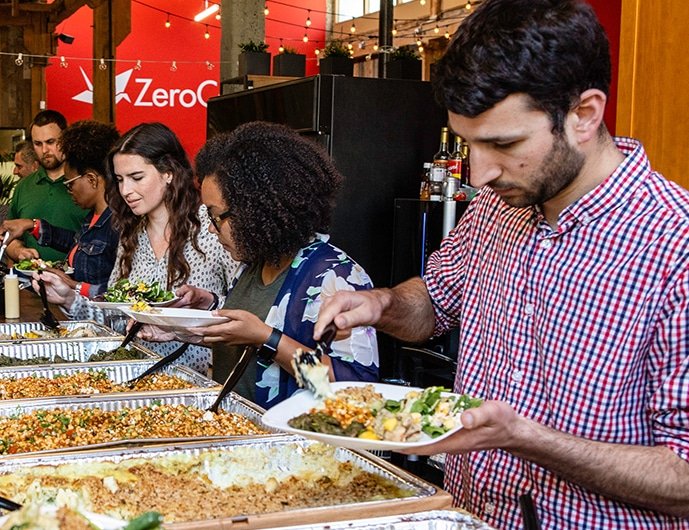 San Francisco, HQ
Zerocater's headquarters is located in the heart of SoMa. Originally home to a grocery store, the two-story building was designed to encourage collaboration with multiple breakout areas including two rooftop decks, cozy couches, and six conference rooms.
A short drive from headquarters, Zerocater's warehouse in South San Francisco is home to our Snacks & Kitchens team.
Next Up: New York City
New York City
A cultural, financial and media epicenter, New York City is home to a team of Zerocater stars that outshine the city's brightest lights.
In the city that never sleeps, neither does this team. When they're not at the office, our team is off exploring Manhattan's limitless dining options to bring you the best meals and snacks – from New York-style bagels, cheesecake and pizza to the trendiest new Filipino spot.
Next Up: Chicago
Chicago
Host to some of the world's finest architecture, museums, shopping and food, our Windy City team brings the Midwest warmth and hospitality to everyday operations.
Our Chicago crew ensures the city's best and brightest are well fed with favorites like Chicago-style hot dogs, deep dish pizza, gyros, and Italian beef.
Next Up: Austin
Austin
One of the fastest-growing cities in the U.S., the Live Music Capital of the World is home to a booming technology and business community, and our Austin team of rockstars.
The Austin team has sought out the best restaurants and food trucks serving uniquely, local and authentic fare – from breakfast tacos and BBQ to Tex Mex treats – to feed Austinites in offices all around town.
Next Up: Washington D.C. Metro Area
Washington D.C. Metro Area
The Nation's Capital, where decision-making is an art form. And when it comes to decisions on office food, Zerocater's DC powerhouse team makes it easy.
Home to one of the most ethnically-diverse dining scenes in the U.S., Washington DC's local flavor offers everything from authentic Ethiopian to down home chili. Whatever your office is searching for, our team is relentless in discovering the very best food partners in the nation's capital.
Next Up: Los Angeles
Los Angeles
From the Hollywood Hills to Marina Del Rey, Los Angeles is home to renowned museums, 75 miles of coastline and rich cultural heritage… and a team of Zerocater superstars.
The Zerocater LA Team has mastered the logistics needed to feed companies throughout this sprawling, global metropolis. When they're not navigating meals and snacks for LA companies, the team is off searching for the standout stars in town from Korean BBQ and tacos to grain bowl and hearty Ramen.
Next Up: San Francisco, HQ